Why does looking at the damn memory photos on Facebook make me want to cry nearly every freaking time? Sister posted photos from a Texas trip 7 years ago this afternoon and I nearly floated my contacts while trying to be productive at my day job…let's not talk about how I saw the post while being productive, lets just call it multi-tasking!
So there in all her 6 year old glory is my daughter. She is a cowgirl, she is a ranch hand, she is barefoot and bareback on a horse with some little girl whose name escapes me.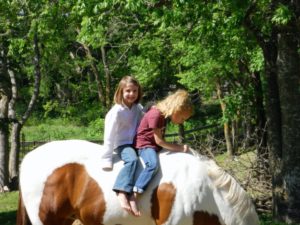 She is cleaning stalls, pushingbarrels, riding and overalljust carousing around the 3 Queens Equestrian Center during our spring break stay.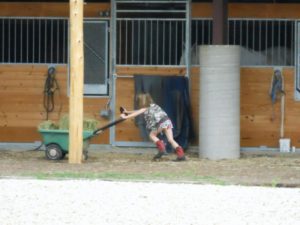 WHAT THE HELL HAPPENED? I barley got one photo of the back of her during our trip there last week. When did she decide that going barefoot anywhere outside the house is not for her? When did she decide that working with the big kids is overrated? When did she decide that the horses would not be elated with all her loving? The even bigger question is WHY? Why did she decide all these things? As any good mother would do, I look for things that I may have done to lead her away from this primal and intuitive young girl. Let's stop for a minute so I can fully disclose that I love with no limit, the teenager that my daughter has become so don't even question me on that!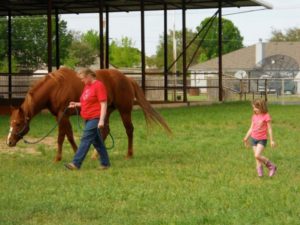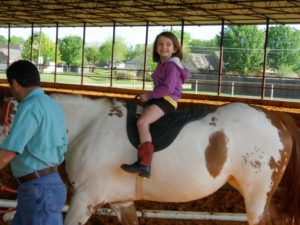 Did she follow my lead when I would "dress for the day"? Making sure to have proper footwear on to match my outfit and the occasion of the day. Yes, yes, I gag as I write this because I would much rather go barefoot now with a t-shirt and ripped jeans but just mere months ago I was a walking Talbots ad (and still can be if the need arises). Did she pull back from feeding the horses because I didn't jump up each morning and evening to feed them but rather choose to spend my time sipping coffee or wine out by the pool visiting with a cousin who stopped by for a visit? Did she stop getting dirty in the barn and the arena because I was walking around with clean hands? I really am troubled by this because for all those moments she may have been watching me for queues on who she wanted to be…I was not being my true authentic self. I was being the Cherisse I knew how to be, the one I thought I should be, the one I had made up.
That all brings me to a very deep pit in the dead center of a cross in the road. Road X says, wow, you need to get in front of her now, talk to her about all these changes in your soul, in your life, in your core. Road Y says, you were doing the best you could at the time and there are no strikes for trying. Neither road is right for me right now and neither road is wrong. I am pretty sure I am going to spin on this little nugget of a cross road for a while.
Guess What…..I am still spinning.
The only conclusion I have made since writing this in April was that I have to be my true self for me and for her. She needs to know that some days I like to go barefoot and some days I like to wear heels and that both are okay. She can see now that I proudly wear a grey streak through my dark hair and my hair is sometimes a wild mess when we stroll through Target looking at everything we don't need in life. Every day, just be the true you, every single day!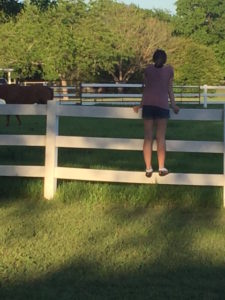 Sparkle on…
C